I cannot send or receive text messages with GSM 5G line
I cannot send or receive text messages with GSM 5G line
Updated by Mushfiq Rahman
First Steps
First, make sure that you have enough texts in your plan.
Make sure you have reception. If the phone displays no service or has a poor signal, try moving around a bit or stepping outside for a moment
Try restarting your phone once. Many issues can be solved by the network refresh triggered by a restart
Make sure you're entering the phone number correctly and your recipient has texting enabled on their account
If you get the error "text blocking is active", please reach out to us via chat or email and we will help you out with it
If your phone still has texting errors, follow the quick troubleshooting steps below.
I cannot send or receive SMS on my iPhone
Go to Settings > Messages.
Turn ON iMessage.
Make sure the checkmark is set to your US Mobile phone number in the Send and Receive option.

Turn ON Send as SMS.
Go to Settings > Cellular / Mobile data > Cellular Data Options / Mobile Data Options.

Check Data Roaming - Make sure all the roaming options are turned OFF
Check Voice & Data - Make sure it is set to 5G/Auto/LTE and VoLTE is turned ON
If you are unable to find the VoLTE toggle, it is enabled by default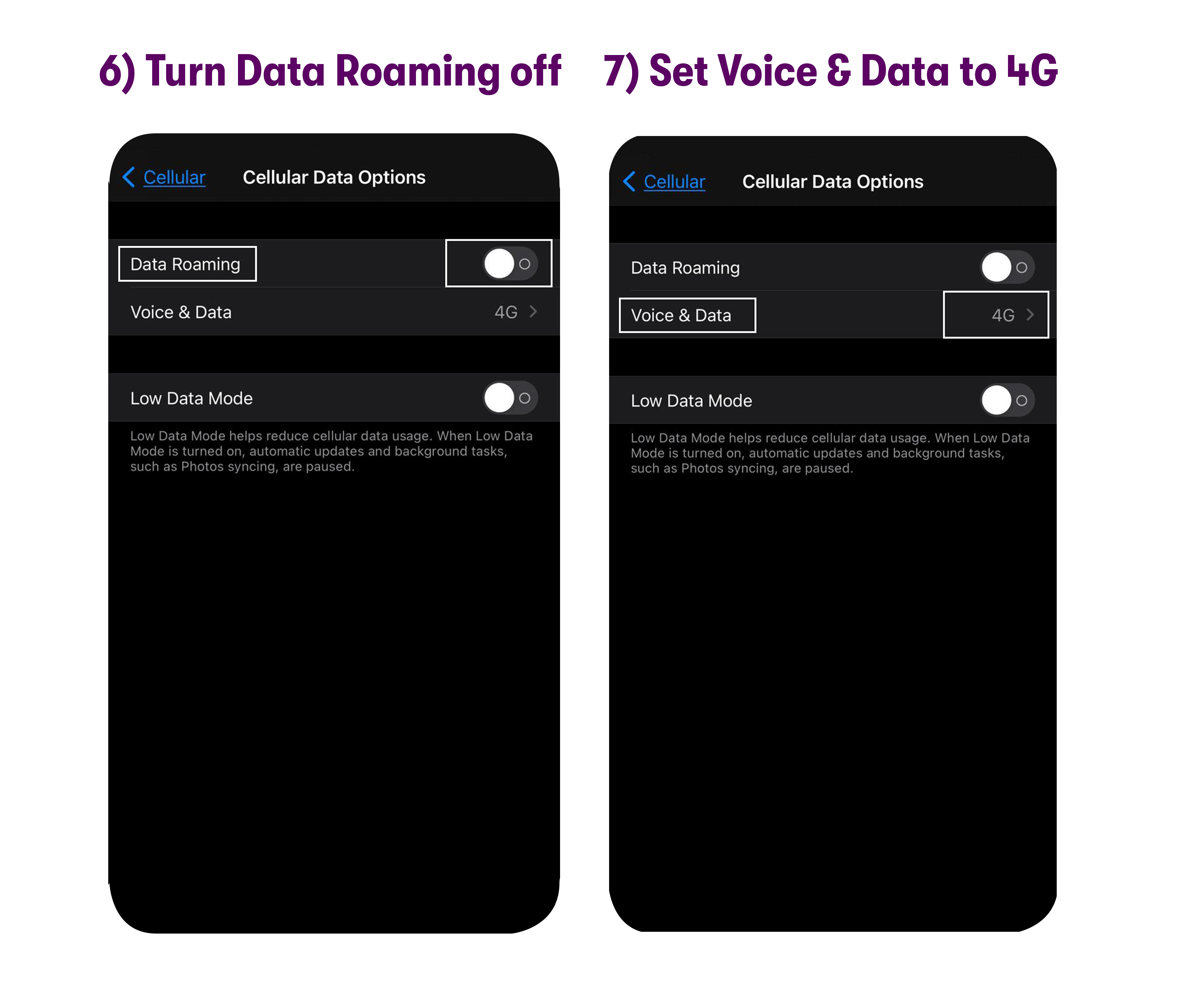 For sim cards ordered before 9th June 2021. please get in touch with support so that we can send a replacement sim card for you.
I cannot send or receive SMS on my Android
Go to Messages > Menu button > Settings > More Settings >Text messages > SMS Service Center.
Make sure the number entered for SMS center is +12063130004.

Go to Settings > Connections / Network & Internet > Mobile Networks / Cellular networks.
Check Roaming - Make sure roaming is turned OFF.

Check Preferred network type / Network mode - Make sure it is set to Global/4G/LTE or LTE/UMTS/GS or LTE/3G/2G
If this Guide did not help, please contact customer support via chat, email or call on 611 at any time!