Can I use my phone when traveling internationally?
Can I use my phone when traveling internationally?
At US Mobile, we offer international data across 150+ countries. Check out our i​n​ternational roaming plans here.
As long as your phone is eSIM compatible and not carrier-locked, you can get 4G LTE & 5G data as soon as you land at your next destination. If you require more data, you can add it at local rates. The activation of our eSIM takes around two minutes, and your plan will be activated shortly after your purchase is successfully completed.
What is an eSIM?
It is an embedded SIM that connects you to service without putting a physical SIM in your phone. 
Check if your device model is included in this list of eSIM-compatible phones for international data. 
Check to see if your device is unlocked. Don't know if your phone is locked? Check this article to see if your phone is locked. 
What is a locked device?
It is a cellular device that is able to accept only 1 type of SIM card; the SIM card that belongs to the cellular provider the device was originally bought from. 
If you have a device that was financed from a carrier you were on, and you are still financing it, chances are your device is carrier-locked. You can reach out to the carrier you bought your device from to check whether it is still locked with that carrier.
iPhones purchased directly from Verizon are unlocked 60 days after purchase. 
For more information on locked devices, check this article. 
If you have an Apple device, to learn if your iOS device is eSIM compatible and carrier unlocked, you will need to: 
Go to Settings > General > About.
Scroll down to view the "Carrier lock" section. 
It should say "NO SIM restrictions",  which means that the device is unlocked 
Scroll down to view the "AVAILABLE SIM" (iOS 15 and newer) or "DIGITAL SIM" (older iOS versions) section. It should contain an IMEI under AVAILABLE SIM or DIGITAL SIM, which means that the device is eSIM compatible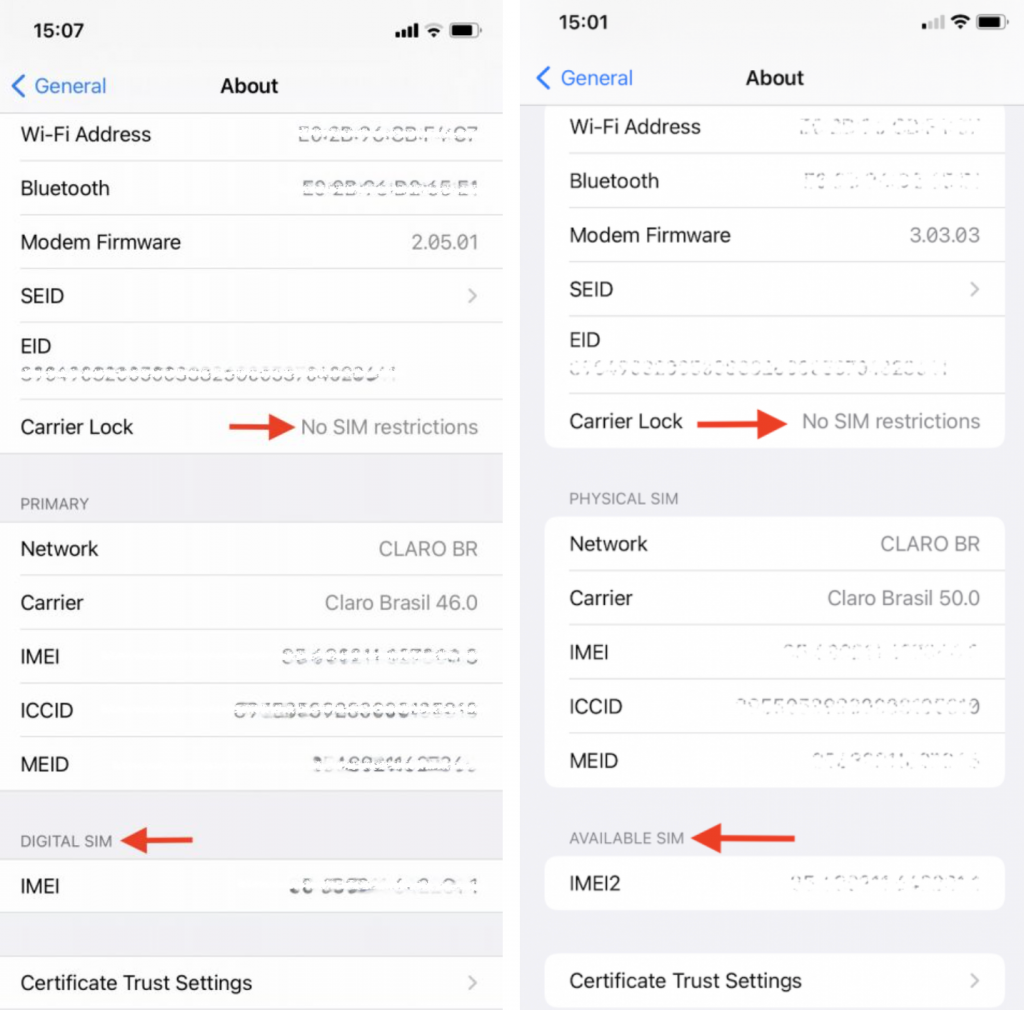 Depending on your device's capability, if you have more than one SIM on the device, you may need to temporarily disable/remove one of the SIM cards before trying to download the eSIM.
Important notes:
Our international data plan does not include talk & text. We recommend you use FaceTime, Facebook Messenger, WhatsApp, etc. to make and receive calls. 
You can also use the Wi-Fi Calling Feature on our GSM 5G and WARP 5G network to send/receive texts and calls from Domestic US Lines while you are abroad. However, to use this feature, you would have to set up Wifi Calling on your device before traveling abroad.