How to set up a Shareable Data Plan
Updated by Muhammad Abubakar Awan
How to set up a Shareable Data Plan?
First, you'll need to log into your US Mobile dashboard. Alternatively, you can

download our mobile app

for an easier experience on mobile.
In your dashboard, go to All my pools.

You'll see an introduction screen that gives you some basic info about how our Shareable Data plans work. Continue to the next screen, where you can create your Shareable data pool.
On this screen, give your pool a name, select an icon and color (to help you distinguish multiple, separate shareable data pools you might create). And choose the amount of Shareable data you want each month, based on your data needs. The prices already include access fees for one line.

If you've already got active lines with US Mobile, you can add them to your pool via the "Lines" tile. You can also add lines to your shareable pool after creating it.
If you need physical SIMs for the lines you will add to your Shareable plan, add the number of Starter Kits you want via the Free Starter Kits tile.
Enter your payment and shipping information, and finalize your purchase. Your Shareable pool will be created right away.
How do I add lines to my Shareable Data pool?
Add lines to your pool at any time.
Navigate to the details page for the shareable pool to which you want to add one or more lines (In your dashboard, go to All my pools > then select the desired pool)
Click "Add a line" in the top right of the pool page. This will open a side drawer that will give you several options to add a line:
Choose an existing line on your account.
Keep in mind, if you choose an existing line on your account, it will be moved off its existing plan and added to your shareable plan immediately. You won't have access to your old individual plan for that line anymore. So make sure to only move it into your pool when you are ready.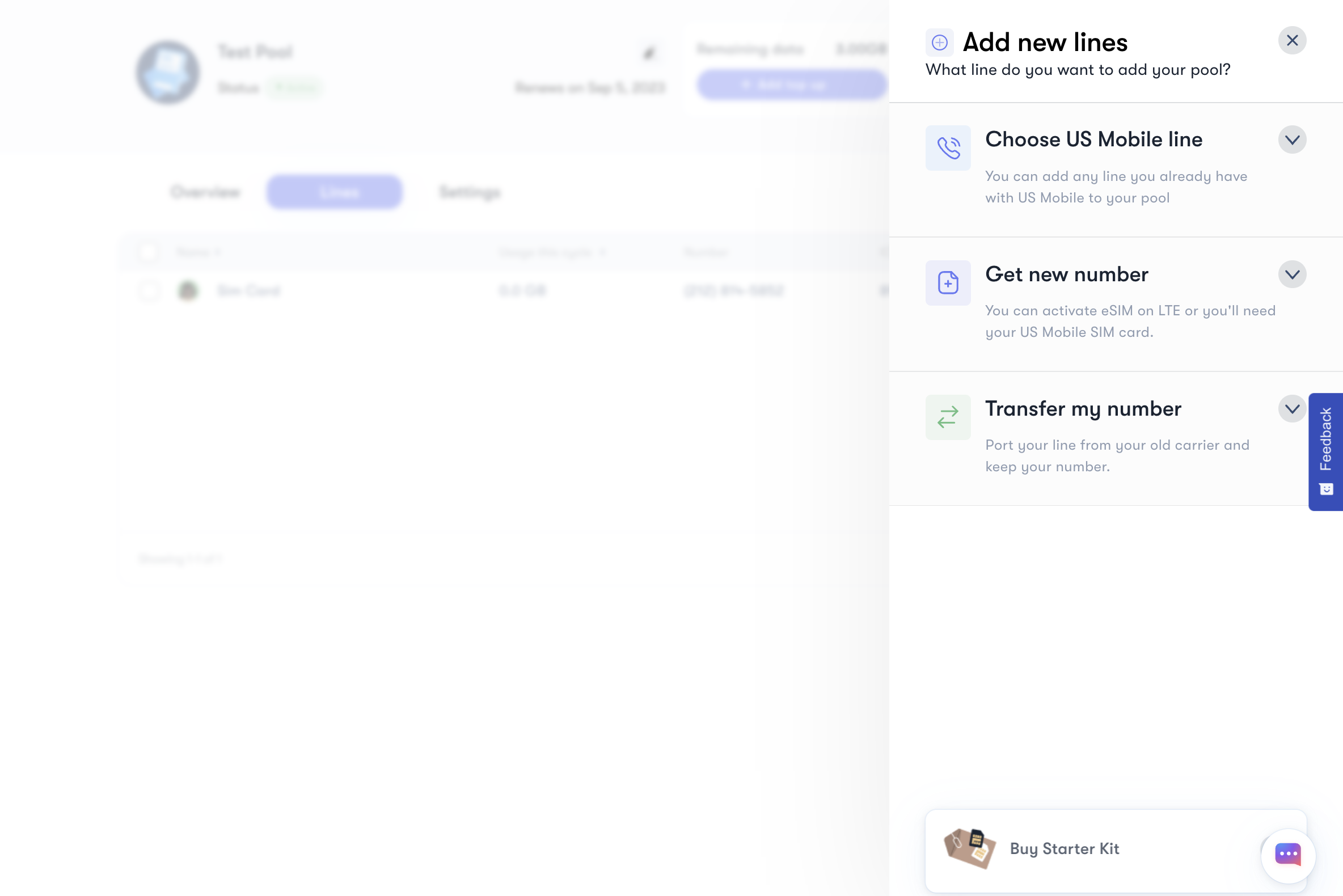 I don't have any Starter Kits yet
When you're setting up your pool, you can order up to 5 complimentary starter kits, completely for free!
Or order US Mobile Starter Kits anytime you want.
What lines are eligible for shared data plans?
Both Warp 5G and GSM 5G lines will work with our shareable data plans.
You can even mix both Warp 5G and GSM 5G lines in one shareable data plan.
When does the billing cycle start for my Shareable Plan?
The clock won't start ticking on your Shareable plan cycle until you add your first line to the shareable data pool. That means you can create a shareable pool and add lines later.
Your Shareable plan cycle will last 30 days from the day you add your first line.
I already have a shareable data pool, on the old pricing. How do I switch it to the new shareable plan?
Here is how you can switch an existing pool to the new pricing:
Go to your Pool page > Settings
Click to "Edit" the base plan
Switch the toggle at the top of the edit base plan modal, to view the new pricing
Select a new base plan based on the new pricing (which includes one line in the pool for free)
Hit "Save Changes". The new pricing will take effect at the start of your next billing cycle.
At the start of your next billing cycle, you will now be billed according to the new pricing.