How to set up your iPhone with Warp 5G in case of No Service
How to set up your iPhone with Warp 5G in case of No Service
Updated by Mushfiq Rahman
The most important things for an iPhone to have service with Warp 5G are:
Is your device unlocked?
Please note that only unlocked phones with US Mobile so it is important to contact the original point of purchase to make sure that the device you are using is unlocked.
You can go to your device Settings > About Phone > Check the message under Carrier Lock. If the message states "No Restrictions", this would mean that the device is unlocked.
Do you have coverage in your area?
Ideally, you should have coverage at your location if you are in the US, however, if you are unsure, you can reach out to us with your complete address and the ZIP code to do a quick coverage check for you.
Is your iPhone updated to the latest iOS version?
Please note that it is super important to update your iPhone to the latest IOS version for the phone to work efficiently.
1. Check your SIM card
Recheck if you're using the correct SIM card: Warp 5G (Black SIM card) and not a GSM 5G (White SIM card) one
If you see Cellular Data Network under Settings > Cellular / Mobile data > Cellular Data Options / Mobile Data Options you can edit the APN. You're using a GSM 5G SIM card and not the Warp 5G one you need to be using.
2. Turn Data Roaming OFF and VoLTE ON
Go to Settings > Cellular / Mobile data > Cellular Data Options / Mobile Data Options
Check Data Roaming - Make sure all roaming options are turned OFF
Check Voice & Data - Make sure it is set to 5G/LTE, 5G Auto, or LTE

Tap the VoLTE toggle to turn it ON.
VoLTE is enabled by default on iPhones that are 5G compatible (iPhone 12 series and newer) and updated to the latest IOS version, so you might not be able to see this option.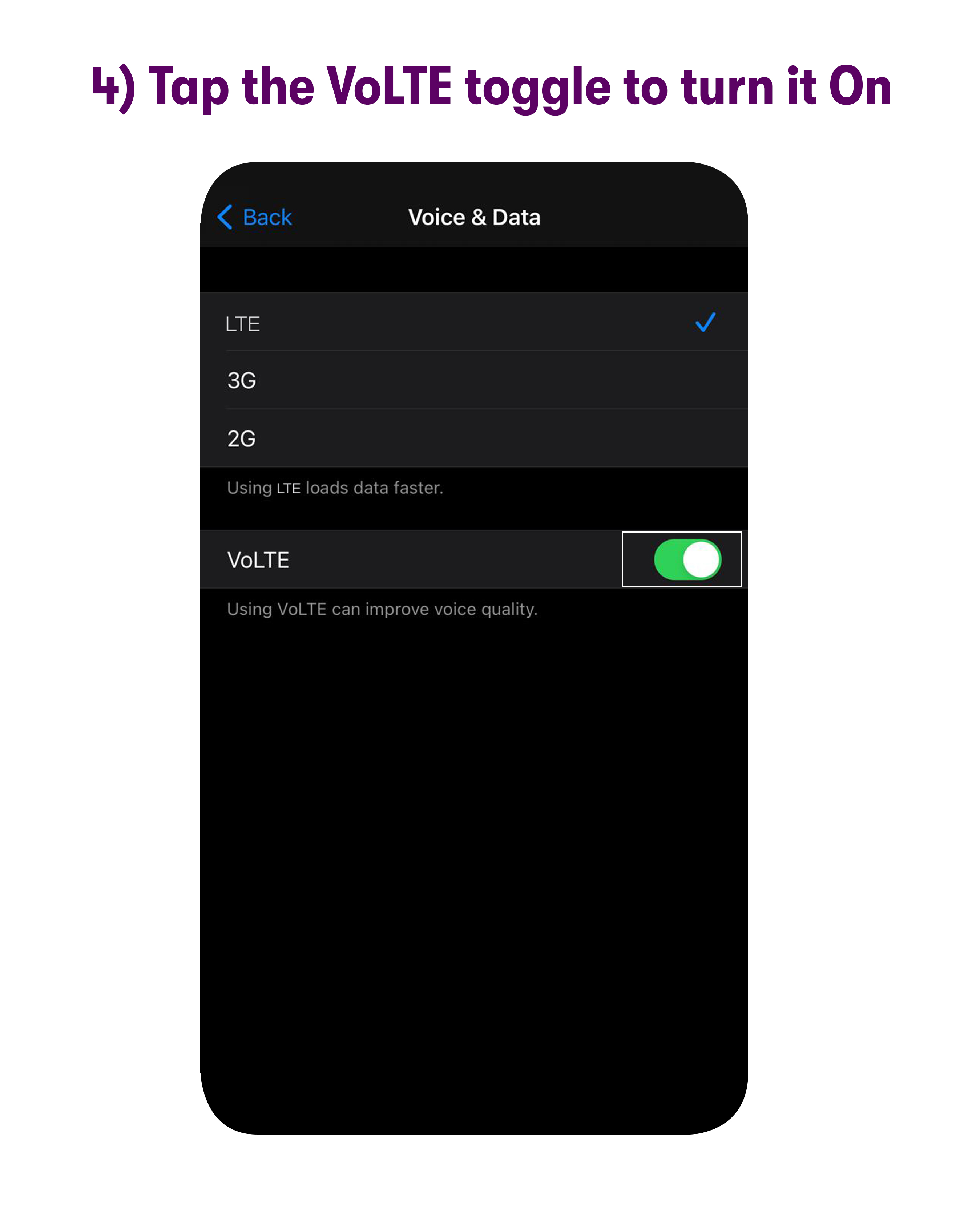 3. Reset Network Settings
Now, we'll need to perform some steps that might remove any saved Wifi passwords and Bluetooth devices from your device, but will reset your network settings which should resolve most of the network connectivity issues
From the Home screen, tap Settings > General > Transfer or Reset iPhone > Reset, tap Reset Network Settings, Type in the device password if prompted, Confirm selection > Restart your device
4. Update the APN
To update the APNs on your device, follow the steps shared below:
Turn Wifi ON and Mobile Data OFF
Now, please open https://apnsetup.usmobile.com/ in the Safari browser on your device. This website will help you set up APN settings for your device
Select iPhone
Select Warp 5G (US Mobile) and tap Download (and tap on Allow download)
After the profile is downloaded, go to Settings > General > VPN and Device Management > Select the downloaded profile > Install
Please contact customer support via chat, email (help@usmobile.com), or call (​1-878-205-0088), if your issue is still unresolved. You can let our representative know that you have followed the steps above so we can take it from there.