Is my device compatible with US Mobile?
Is my device compatible with US Mobile?
Updated by Taha Siddiqui
At US Mobile, we currently offer two networks that customers can choose from Warp 5G (the black SIM card) and GSM 5G (the white SIM card), both providing 4G and 5G services. Each has its own compatibility, coverage, and list of available features. You can find more information here.
Compatibility with Warp 5G (black SIM card)
The requirements for our Warp 5G (previously Super LTE) network are a bit different, so we have a handy compatibility checker built into the 'Networks' page (Note: this compatibility checker can also be used to check which network has the best coverage in your area). Just enter the 15 digits IMEI for your device, which you can get by dialing *#06# from the device's dial pad, to know if you can use it on Warp 5G.
Any device that is manufactured post-2013 should work with our network. Please reach out to support for checking compatibility to devices that were manufactured before 2013.
To know about the frequency bands needed for 5G service on our networks, reach out to us.
Compatibility with GSM 5G (white SIM card)
Due to recent changes in the infrastructure powering our GSM 5G (previously GSM LTE) network, many older devices will no longer be compatible with GSM 5G unless they also have the VoLTE/HD Voice/Enhanced Calling feature. This applies to all NEW activations (starting from 9th June 2021).
As we move into the future, 2G and 3G support on the GSM 5G network has been phased out, resulting in poor/degraded service on such devices. That is why, we advise customers joining our GSM 5G network to have "4G" or "LTE" compatible devices, which possess LTE Band 4 (1900/2100 MHz) and LTE Band 12 (700 MHz), as well as VoLTE. This ensures no disruptions as the network evolves, and you can enjoy seamless service in the future.
eSIM Compatibility
If you want to activate an eSIM, simply select instant eSIM activation. As long as you have a compatible device that supports eSIM that has not been locked in the past, you should be good to go.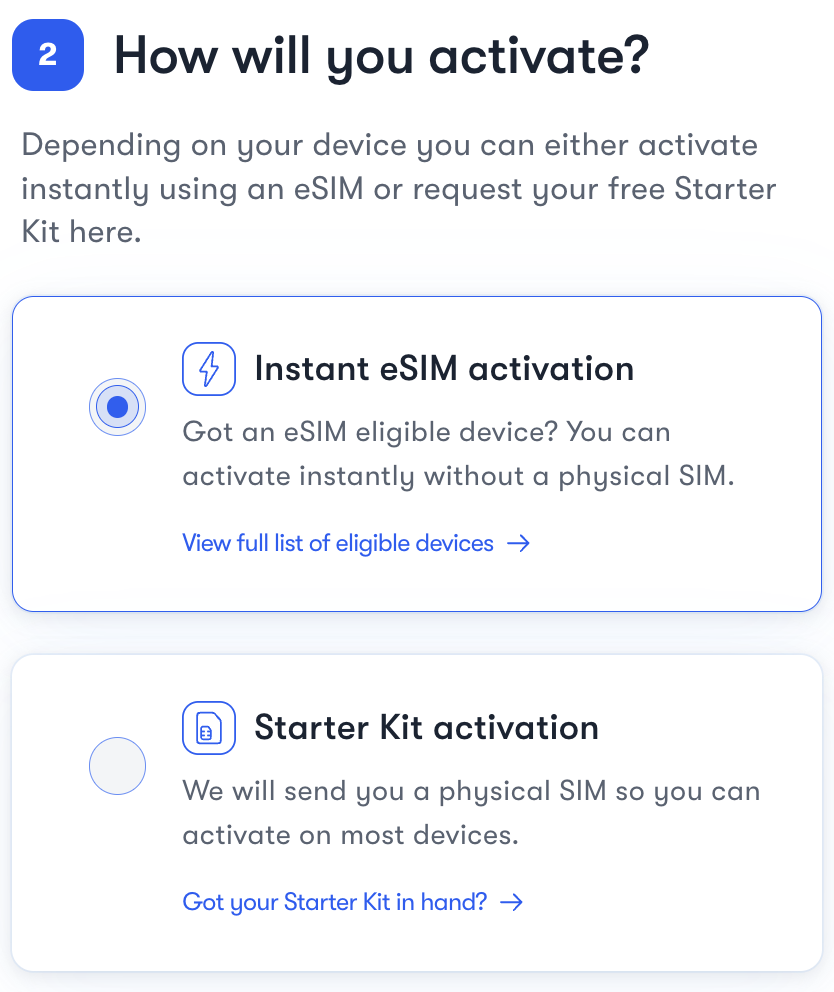 You can view the list of eligible devices to check whether our eSIM support is available for your device.
An eSIM works just like a SIM card but is directly embedded within your phone, allowing you to use services without a physical SIM card.
In case you have any questions or confusion, we highly recommend that you contact us with your phone's make and model + IMEI, so so we can check which network fits it best.
If your phone isn't compatible or you need a new one, we have a selection of inexpensive and unlocked devices in our store, which are compatible with both of our networks!