Updated by Arina Vlasova
Wi-Fi calling is automatically enabled for all the GSM LTE customers. E911 address will be compulsory in order to enable it so we would be using the Shipping address from the affiliated subscriber ID as their e911 address.
WI-FI calling is available for both Androids and iPhones now.
WI-FI Calling does not support MMS. MMS services require a network connection and a positive data balance on the account.
How to change / update e911 address
Please use the shipping address of the customer as the E911 address
Wi-Fi calling option should give you three of these options:
Active
Not Active
Address Invalid
If it says "Address Invalid" or "Not Active", you can add sim e911 address for it to work.
WFC feature is not available on older SIM Cards that were created before September 2016. We will get an error while adding it. In such cases, the subscriber will need a new SIM, in order to add the WFC feature. WFC feature is available on iPhones (on GSM) as well on the new SIMs (shipped after 6th of June).
When the customer gets the new GSM sim card and is performing a sim swap, their WFC would not work by itself. We still have to go into their sim profile in AP and submit another request for WFC activation.
To add the e911 address, click on the details button opposite Wi-Fi calling.

Enter the e911 address on the next page in the respective fields.

Wi-Fi Calling should then be active once a valid e911 address has been added
If it's active and the customer still complains, then request them to restart the phone once and check if Wi-fi Calling is then active on their phone:
Check : Settings -> Network & internet -> Mobile networks -> Advanced -> Wi-Fi calling (turn it On if its Off)
Make sure that the correct APN is installed on the phone. APNs can be installed from here.

Restart the device after saving APN.
After restart, turn off Wi-Fi and turn on Mobile data.
If APN fields MCC and MNC, then please enter MCC:310 & MCC:260

If the fields are already filled, leave them as it is.

Move to APN type field and if its empty, please enter: default,MMS( if APN fails under default ).

By default, it should be on but this would be a good check. The address form could show 3 different colors indicating 3 different situations as mentioned below:
Always add comments to SIM Page
Request: e911 address changed / updated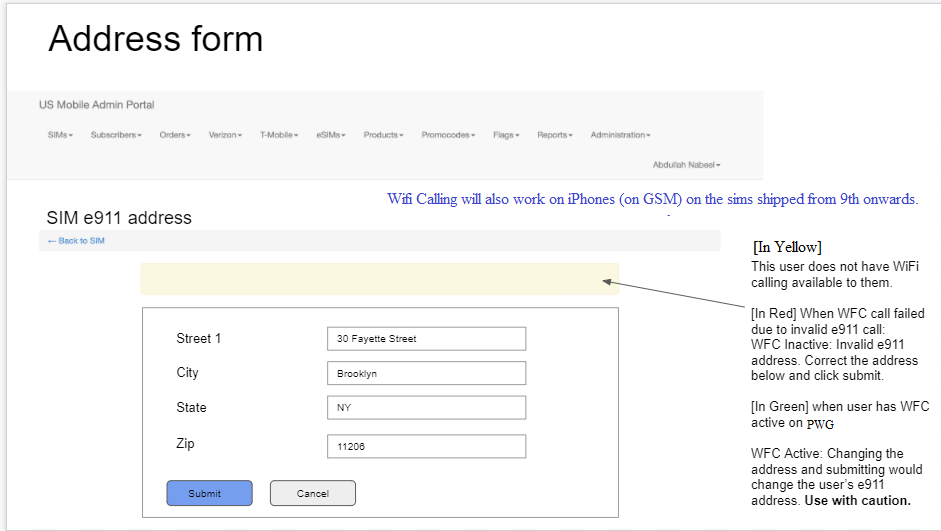 What to do if the E911 address is invalid?
Please copy the address and validate it from the USPS directory here. PSS has to enter the E911 address in the correct format in the USPS directory. Once searched, it will give you the correct address. PSS needs to copy that address and use that as the E911 address.